Season 7 is already going strong in Fortnite Battle Royale, and the challenges for week 2 is out. As always we have collected the challenges here so they are easy to find and we will also help you on how to complete the challenges.
Let's just jump right into it.
Fortnite Season 7 Week 2 Challenges
Free challenges:
Search a Chest in different Named Locations (7)
Damage opponents with different types of weapons (5)
Eliminate opponents in Snobby Shores or Fatal Fields (3)
Battle Pass Challenges
Stage 1: Visit Snobby Shores and Pleasant Park in a single match

Stage 2: Dusty Divot and Lonely Lodge
Stage 3: Frosty Flights and Tomato Temple

Play the Sheet Music on pianos near Pleasant Park and Lonely Lodge (2)
Compete in a Dance Off at an abandoned mansion (1)
Eliminate an opponent from at least 50m away (1)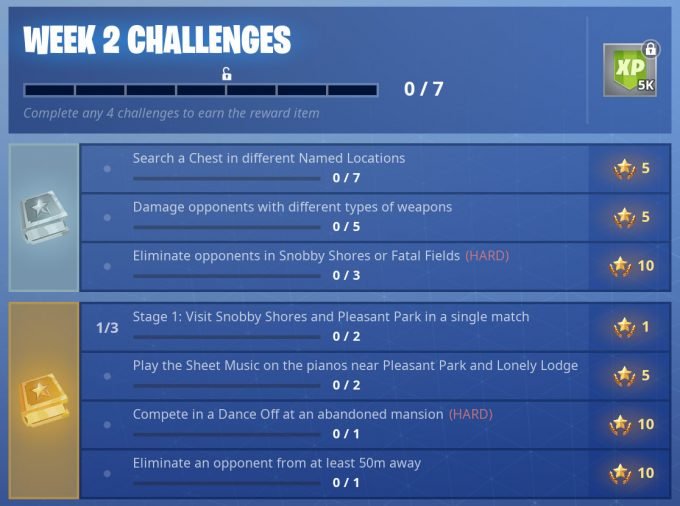 How to complete the challenges – All-inclusive cheat sheet
Some of the locations can be a bit hard to find, and this is why user Squatingdog has created an amazing all-inclusive cheat sheet for people, so they can easily complete all the challenges. Click the image to enlarge it.