Turner "Tfue" Tenney (aka. FaZe Tfue) is a very popular streamer on Twitch and professional Fortnite Battle Royale player, currently playing for FaZe Clan. He quickly gained popularity while streaming because of his incredible skills in the game.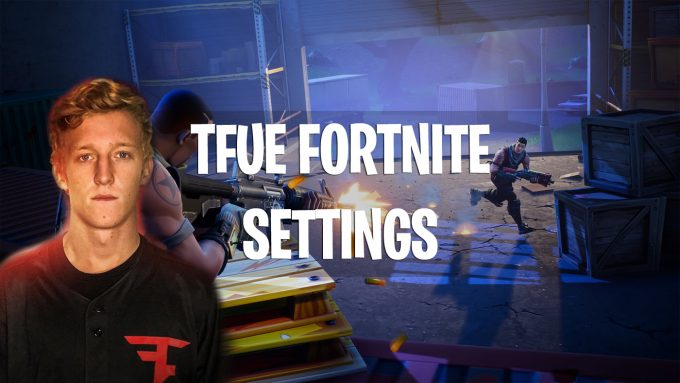 Info about Tfue
Turner Tenney, born on December 25, 1997 is from Indian Rocks Beach, Florida. Before becoming a full-time streamer, he was a professional skimboarder. His has a big brother, Jack Tenney, who is also an internet star, known for his skimboarding YouTube channel, where he has more than 3 mio. subscribers.
Controversy
Tfue has been involved in a lot of controversy. In May 2018, Tfue received a 30 day ban on Twitch for calling another player "Coon" while streaming. Tfue explained that he meant "Raccoon", and that there was no racist intentions behind it. Twitch later decided to reduce the ban to 7 days. In June 2018 Tfue got banned again, but this time it was his Fortnite account which received a ban. After using an in-game bug on stream, EPIC Games decided to permanently ban his account. In his early days of playing Fortnite, he has also been accused for stream sniping other popular streamers.
Tfue Gear – Gaming Equipment
Monitor: ASUS ROG Swift PG258Q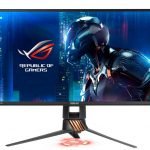 Tfue is using one of the best gaming monitors currently available. With it's 240 Hz refresh rate and 1 ms response time it is incredible responsive and smooth. Besides this is has Nvidia G-Sync for an even smoother gameplay. This monitor is top of the notch is you are serious about gaming.
Specs:
24.5 inches TN panel
240 Hz refresh rate
1 ms response time
Full HD 1080p resolution
Nvidia G-Sync
Mouse: SteelSeries Sensei 310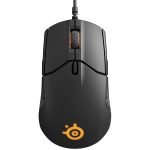 The SteelSeries Sensei 310 is an incredible lightweight gaming mouse. It features a custom TrueMove3 optical sensor from SteelSeries, which is similar to the Pixart PMW3360. It goes up to 12,000 CPI (which you should not care about, but we will cover this in a later article) and has 8 buttons.
Overall, the Sensei 310 is one of the best mice out there for FPS games like CS:GO, Fortnite and Overwatch.
Headset: Sennheiser HD 700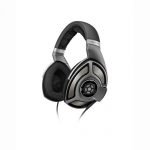 Sennheiser is known for making great audio devices and this includes headsets as well. The Sennheiser HD 700 can be used both wired and wireless. It is an open headset with dynamic stereo. Looking at the reviews, people really loves this headset.
Keyboard: SteelSeries Apex M750 TKL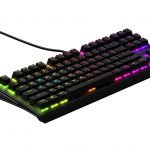 SteelSeries is known for making peripherals specifically for gamers and this keyboard is no exception. It features SteelSeries own QX2 linear mechanical gaming switches, which can be compared to the Cherry MX Red switches. The Cherry  MX Red and Brown switches are considered the best of the best when it comes to gaming. SteelSeries however, wanted to improve these switches even further in which they succeeded (or at least made some on par with the MX Cherry Red). Besides this, the keyboard features incredible RGB lightning, which can be customized through the software. Overall one of the best gaming keyboards currently available on the market.
Mousepad: Glorious 3XL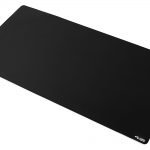 The Glorious 3XL is what it sounds like – a huuuuge mousepad that covers most of the table and includes the keyboard. You want this thing so that you do not suddenly run out of mousepad. Pro players tend to use a low sensitivity, so a large mousepad is beneficial
Gaming Chair: DXRacer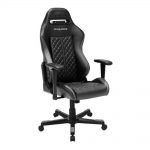 The DXRacer brand is a popular choice among gamers. It was one of the first brands to adopt the "racing style" for a chair and quickly became popular. It features a comfortable ergonomic design and includes a headrest.
Tfue Mouse Settings & Sensitivity
Tfue like other professional gamers use a low mouse sensitivity. This makes it easy to make fine adjustments to the aim and hit players further away. It also requires a little training, as you will need to move your hand and arm much more than you might be used to.
Sensitivity
In-game X/Y sensitivity: 0.07
ADS sensitivity: 0.70
Scoped sensitivity: 0.55
Mouse Settings
CPI (DPI): 400
Polling rate: 1000 Hz
Tfue Keybinds and controls
To build super fast, Tfue has changed the default keybindings.
| Action | Input |
| --- | --- |
| Use | E |
| Jump | Spacebar |
| Crouch | Q |
| Weapon Slot 1 | 1 |
| Weapon Slot 2 | 2 |
| Weapon Slot 3 | 3 |
| Weapon Slot 4 | 4 |
| Ability Slot 1 | 5 |
| Ability Slot 2 | 6 |
| Switch Quickbar | P |
| Wall | C |
| Floor | F |
| Stars | V |
| Roof | Mouse 5 |
| Trap Slot | Mouse 4 |
| Building Edit | Left Alt |
Tfue Fortnite Video & Graphics Settings
Moving on the Tfue's in-game Fortnite video and graphics settings. Pro players generally have motion blur and Vsync turned off. Besides this, there are no standard settings. We would recommend to go for settings which maximizes the FPS you get in-game. Otherwise you can check out this guide on the best Fortnite settings.
| | |
| --- | --- |
| Window Mode | Fullscreen |
| Resolution | 1920×1080 |
| Aspect Ratio | 16:9 |
| Frame Rate Limit | Unlimited |
| 3D Resolution | 1920×1080 |
| View Distance | EPIC |
| Shadows | OFF |
| Anti-aliasing | OFF |
| Textures | EPIC |
| Effects | LOW |
| Post Processing | LOW |
| Motion Blur | OFF |
| Vsync | OFF |
| Monitor Refresh Rate | 240 Hz |
We hope you found this article useful. If you are looking for some settings but can't find them, you are welcome to leave a comment and we might be able to help out. Also, feel free to commend if you find any outdated information.
As always a special thanks to ProSettings for helping us find updated information from Tfue. They do an amazing job collecting information and settings from a lot of different pro players in various games. You can check out their Fortnite pro settings here.